Investigator Sponsored Study (ISS) and ISS Sponsor
An ISS is a study that is developed and conducted by a qualified sponsor external to G1 Therapeutics who assumes full responsibility for the conduct of the study. An ISS can take a variety of forms including clinical and nonclinical studies that may be interventional or observational.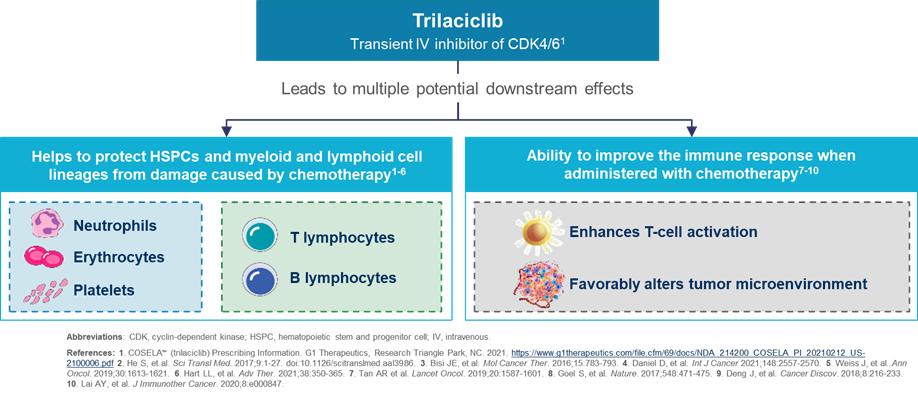 G1 Therapeutics supports investigator sponsored studies that align with G1 Therapeutics areas of scientific interest. A summary of the areas of interest can be found by clicking on the link below.
ISS Request Process
Proposal forms can be requested by email from ISS@g1therapeutics.com. Completed proposals proposal requests must be submitted to ISS@g1therapeutics.com. Field representatives may not request support on behalf of customers. Submitted ISS proposals are reviewed routinely by the G1 Therapeutics ISS Review Committee.
Submission of a proposal requesting G1 Therapeutics support (e.g., funding and/or drug supply) is not a guarantee of acceptance or approval of that proposal. A formal notification regarding the status of your application will be communicated once a decision is reached. For any questions, please send email to ISS@g1therapeutics.com.
Areas of Scientific Interest
Trilaciclib is available through the ISS program. Priority will be given to applications proposing to investigate trilaciclib in the following areas of interest:
Pre-Clinical/Translational and Clinical studies investigating myeloprotection and/or anti-tumor effects of trilaciclib in the following:

Gastrointestinal cancer

Non-small cell lung cancer

Breast cancer

Ovarian cancer

Genitourinary cancer

Sarcomas

Highly immunogenic tumors

Other tumor types not currently under investigations by G1 Therapeutics

Observational studies: SCLC patient-reported outcomes and healthcare resource utilization

Myeloprotection
The following areas of interest are out of scope and not supported:
Hematological malignancies

Studies that compete with ongoing G1 Therapeutics studies

Considerations for the investigator: Limited funds may be available to support proposals. Studies must commence within 1 calendar year of draft protocol approval.